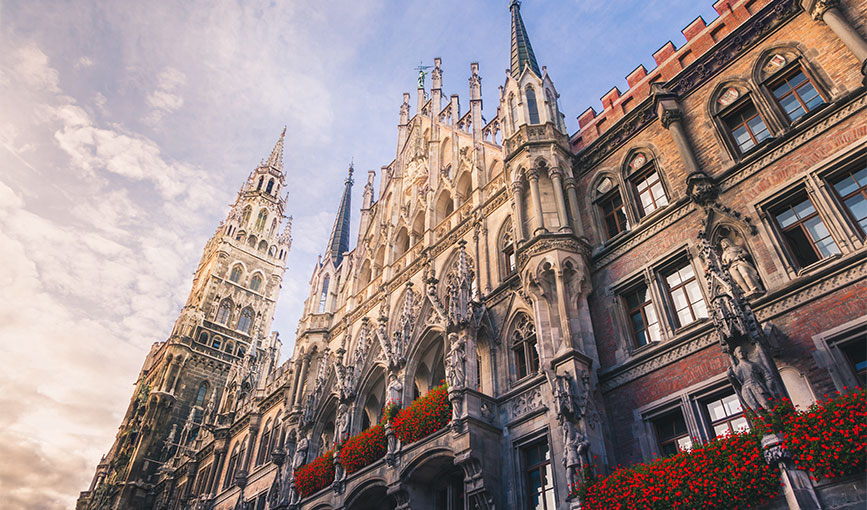 How to get a tax refund in Europe — Munich
What makes you want to go shopping in Munich?
Even if you have never been to Munich, you must have heard of Oktoberfest. From late September to early October, thousands of tourists from all over the world gather for a carnival. The charm of Munich, however, is not only confined to that. It is the largest city in southern Germany and the capital of the state of Bavaria. This city not only preserves the classical ancientness of the kingdom of Bavaria, but also integrates the infinite vitality of modern civilization. Different cultures are performing a wonderful symphony here.
Munich is one of the main economic, cultural, technological and transportation centers in Germany, with well-developed manufacturing, software and service industries. BMW, Siemens, Alllianz and a lot of other companies are all headquartered here. The city is also the second largest financial center in Germany. Immersed in a unique culture, you will find shopping in Munich a great enjoyment. You can not only buy products of top brands from all over the world, but you can also enjoy the classical charism of the Old Town of Munich while shopping.
Which places are worth visiting?
Marienplatz
Shopping in Munich can realize all your romantic fantasies about Europe. Marienplatz, located in the center of the city, is not only the center of the Old Town, but also a business and shopping hub. Whether you are obsessed with big brands or niche brands, the stores here can satisfy all your needs; if you just want to look around some retro stores to get some souvenirs, you can always find what you want here without any problem.
Shopping Guide:There are many jewelry stores around the square, such as Wellendorf, their most popular products are  Wellendorff-Collier and the Wellendorff-Ring.
Transportation: Come out of the train station, walk east along Bayerstrasse and walk east along the pedestrian street after you get to Karlsplatz; or take Urban Train Line S1-8 and Subway Line U3/6 and get off at Marienplatz.
Residenz München
The Munich Royal Palace is Germany's largest city palace and is currently open to visitors to show its architecture, interior decoration and royal collection. The Munich Palace consists of ten courtyards and museums, with 130 showrooms. The three main sections are the Königsbau near Max-Josef Square, the Alte Residenz towards the Palace, and the Festsaalbau, Altes Residenztheater and Treasures Palace. Visitors can enjoy the heritage of the 5th century royal residence. More convenient is that in addition to the magnificent palace, there are many shopping spots around.
Transportation: Take Subway line 3, 4, 5, and 6 and get off at Odeonplatz.
Shopping Guide: Germany's top camera brand leica; High-end clothing and accessoires at Marion Heinrich, located directly opposite the Opera House, offering products of brands like Azzedine Alaia, Manolo Blahnik, Givenchy, Chloé, Blaenciaga, Tom Ford and other brands. Close to Marienplatz you can also find the popular American clothing brand Tory Burch and the famous German leather goods brand MCM
Maximilianstraße
It is one of the four royal avenues in Munich, which starts from Max Joseph Platz. This street was built by Maximilian II, king of Bavaria, and named after him. The street is flanked by British neo-Gothic palaces on both sides. The west side is well known for fashion stores, luxury stores, jewelry stores, galleries and designer shops, and it is one of the main shopping streets in Munich.
Transportation: Take Tram Line 19 and get off at Kammerspiele.
Business hours: 10:00 a.m.-7:00 p.m., Mon.-Fri.; 10:00 a.m.-6:00 p.m., Sat.
Shopping Guide:Germany's high end professional optical shops like Noble Optics which offers a wide range of luxury brands as Maybach, Catier, Lindberg, Barton Perreria, Tag Heuer, and offer professional services for personal eyewear; and Eye Catcher, a high-end eyewear chain, providing Armani, Dior, Prada , Fendi, Ray-Ban and other high-end brands.
Viktualienmarkt
Located next to Marienplatz, Viktualienmarkt is the largest and most popular market in Munich. You can find all kinds of freshly and exquisitely prepared food, flowers, cheeses and fruits here. All stores have the same business hours, while flower shops, bakeries and restaurants have their own open times. Every Saturday morning is the busiest time of the market. It is a good choice to come here and have a taste of real German life.
Transportation: Walk east from Marienplatz and turn south.
Business hours: 10:00 a.m.-6:00 p.m., Mon.-Fri.; 10:00 a.m.-3:00 p.m., Sat.; closed on Sun.
Where can you get a tax refund?
TAX FREE EASY is currently one of the fastest and most convenient tax refund services with the highest tax refund rates in Europe. You can enjoy the ultimate tax refund experience provided by TAX FREE EASY in any of the following stores in Munich: the tax refund will be transferred onto your Alipay or UnionPay card; the electronic tax refund card will generate a tax form automatically within seconds; the refund will be transferred to your account after 1–2 days.