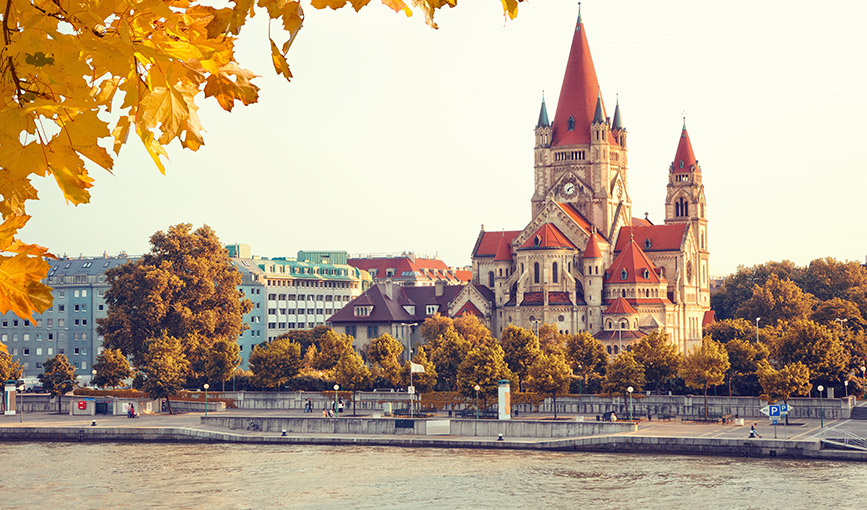 How to get a tax refund in Europe — Vienna
What makes you want to go shopping in Vienna?
Located at the bank of the Danube, Vienna is the capital of Austria and an important transportation hub in Austria. It is not only a highly economically developed city but also one of the main cultural centers in Europe. It is also known as "the world's music capital." Vienna is the most densely populated city in Austria and the second largest German-speaking city in the world, second only to Berlin.
Vienna is famous around the world for its music. However, music is not the only thing Vienna is highly admired for. Choices for shopping are also abundant. From large fashion chains to small boutique stores, from elegantly decorated flagship stores to world-famous brands, Vienna is able to meet everyone's shopping needs. It is a great idea to tour the ancient city while shopping. In addition to its traditional handicrafts, Vienna offers fashion elements which are not at all overshadowed by Paris and Milan. You can buy the most cutting-edge products and the prices will give you a big surprise.
Austria has relatively high value-added tax rates, 20% in general and 10% for foods, medicines and books (you need to spend at least 75.01 euros in the same store in one day). So it is cost efficient to get a tax refund after shopping in Vienna.
Which places are worth visiting?
Schloss Schönbrunn
Schönbrunn (German: Schloss Schönbrunn) is a baroque art building located in the western part of Vienna. It is where the 6-year-old child Mozart was playing the piano for the Queen for the first time. Princess Sisi and her husband Franz Joseph I. who rules as Emperor of Austria and King of Hungary, also lived in Schönbrunn Palace for a long time. Schonbrunn Palace was a royal palace in the time of the Holy Roman Empire, the Austrian Empire and the Austro-Hungarian Empire. It is now the most prestigious tourist attraction in Vienna. Schonbrunn Palace and its garden are included in UNESCO's World Cultural Heritage List. It takes about 3-4 hours.
Shopping guide: The A&M Crystal store 200 meters from Schönbrunn Palace runs the famous Austrian Swarovski crystal products and various brand watches and souvenirs. In addition, they provide various language services (including Chinese) and help tourists with the tax refund procedures.
Add:Schönbrunner Schloßstraße 47, 1130 Wien.
Transportation: Take U4 underground to Schönbrunn Palace, tram 60 to Hietzing, tram 10, 58 and bus 10A to Schönbrunn Palace.
Business hours:
8:30-17:30 (April 1 – June 30, September 1 – October 31)
8:30-18:30 (July 1 – August 31)
8:30-17:00 (November 1 – March 31).
Kärntner Straße
The U-shaped street, known as one of top 10 most famous pedestrian streets in the world, is situated in the downtown area of Vienna, where the famous Vienna State Opera and St. Stephen's Cathedral are also located. On this street world-renowned brands are operating in harmony with Vienna's typical family-owned businesses. All internationally, domestically and regionally well-known brands can be found here, so this street is not only the favorite of the Viennese, but also a must-visit for all tourists.
Transportation: Take Subway Line U1, U2 or U4 to Karlaplatz and walk there.
Business hours: open all day.
Where can you get a tax refund?
TAX FREE EASY is currently one of the fastest and most convenient tax refund services with the highest tax refund rates in Europe. You can enjoy the ultimate tax refund experience provided by TAX FREE EASY in any of the following stores in Vienna: the tax refund will be transferred onto your Alipay or UnionPay card; the electronic tax refund card will generate a tax form automatically within seconds; the refund will be transferred to your account after 1–2 days.