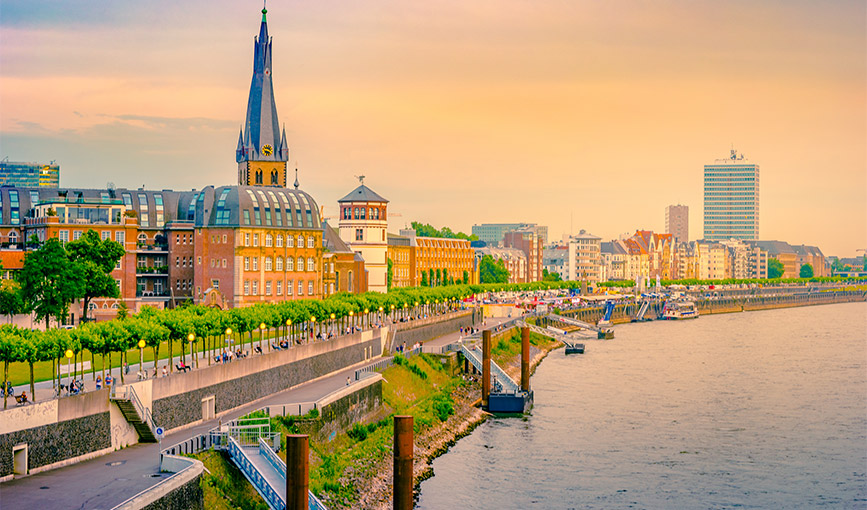 How to get a tax refund in Europe — Dusseldorf
What makes you want to go shopping in Dusseldorf?
Düsseldorf, on the bank of the Rhine, is the capital of North Rhine-Westphalia and located in the most populated and economically developed area in Europe. It is one of the most important transportation hubs in Germany and also a world-famous city of fairs and exhibitions. Many large exhibitions are held here every year, such as the largest ship exhibition, medical exhibition and printing exhibition in Europe. Dusseldorf is also the hometown of Heinrich Heine, a famous German poet, after whom the University of Dusseldorf is named. Besides, various historical sites are scattered across the city, such as 13th to 18th-century relics, art schools and famous pottery museums.
Düsseldorf is a young city infused with creativity and vitality. The commercial streets here bring together all kinds of brands from all over the world. You can find everything from high-end luxury products to trend products. The shopping areas are concentrated near the Old Town. You can enjoy the scenery of the Old Town while drinking a beer at a beer hall, or siting on the bank of the Rhine basking in the sun.
Which places are worth visiting?
Königsallee
Königsallee, where Düsseldorf's business circles are located, is also the most important shopping area in Düsseldorf, and you can find almost all the major international luxury brands and shopping malls here. One side of Königsallee is flanked by luxury brands and the other side is a quiet financial district. You can take a rest here after shopping.
Transportation: Take U-Bahn and get off at Berliner Allee; or take Bus No. 805 or 817 and get off at Steinstraße.
Business hours: 10:00 a.m.-8:00 p.m., Mon.-Sat.
Altstadt
The Old Town of Düsseldorf, "Altstadt", is densely packed with pubs and restaurants. More than 300 pubs are located here one after another; it is called "the longest pub street in the world." You can have a taste of authentic German food and beer here.
Transportation: Take U-Bahn, which runs at an interval of 7 minutes, get off at Heinrich-Heine Allee and walk for 10 minutes.
Business hours: 12:00 a.m.-10:00 p.m. Mon.-Sun. (for most restaurants)
Where can you get a tax refund?
TAX FREE EASY is currently one of the fastest and most convenient tax refund services with the highest tax refund rates in Europe. You can enjoy the ultimate tax refund experience provided by TAX FREE EASY in any of the following stores in Düsseldorf: the tax refund will be transferred onto your Alipay or UnionPay card; the electronic tax refund card will generate a tax form automatically within seconds; the refund will be transferred to your account after 1–2 days.