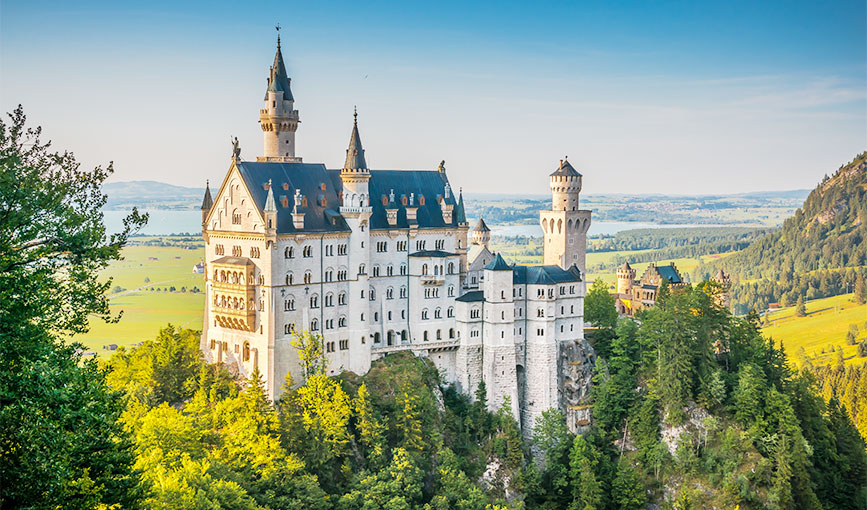 How to get a tax refund in Europe — Neuschwanstein Castle
What makes you want to go shopping around Neuschwanstein Castle?
Neuschwanstein Castle is the only piece of pure land in King Ludwig II's eyes and a retreat from the turmoil of the world; it is one of the must-see attractions in Germany; it is the embodiment of a fairytale castle for many people, and even the Disney logo was designed based on it.
Neuschwanstein Castle is situated in the mountains of Hohenschwangau, a small town in Bavaria.
As the last leg of many tourists' Germany itineraries, they like to go crazy here because this is the last chance to enjoy shopping with tax refunds in Germany.
Which places are worth visiting?
Hohenschwangau is a small town located in the southern part of Bavaria and situated at the intersection of the Romantic Road (a famous tourist route in Germany) and the Roman Road (where the Roman military fortresses were located). You can find the small town right between Neuschwanstein Castle and Hohenschwangau Castle. With tens of thousands of tourists coming here every year, the place is very busy and prosperous, small but well equipped. All your needs can be well met here.
Hotel Müller
Established in the early 19th century, Hotel Müller has become one of the oldest and largest hotels in Hohenschwangau.The hotel has a Western restaurant, souvenir shop M-Souvenir, and high-end watch and jewelry store M-Watches, including international brands such as Tissot, Swarovski, Michael Kors, and Calvin Klein.
If you want to buy German home furnishings, Swiss high-end watches and jewellery, you can also go to the Apollo duty-free shop, which is located on the way to Neuschwanstein Castle, next to P1 parking. There are German high-quality kitchenware brands such as wmf, Zwilling and Fissler, as well as German products such as watches, bags and leather goods.
Transportation: The hotel is next to the ticket office of Neuschwanstein Castle. Continue straight after having bought the ticket and you will see their logo. Take a horse carriage up the hill to Neuschwanstein Castle; Hotel Müller is the starting point. The mountain shuttle is parked in Parking Lot 4 (P4) in front of the hotel.
Western restaurant of Hotel Müller
As an authentic German restaurant in Bavaria, the restaurant offers pig knuckles, Italian style spaghetti, Argentinian steaks, German smoked fish, seasonal vegetables and a variety of desserts, such as chocolate cakes, red berry cakes, cream cheese cakes, cherry cakes and plum cakes. The restaurant features an elegant environment and you can relish the beautiful scenery of Neuschwanstein Castle while enjoying your meal.
Business hours: 10:00 a.m.-11:00 p.m., Mon.-Sun.
Where can you get a tax refund?
TAX FREE EASY is currently one of the fastest and most convenient tax refund services with the highest tax refund rates in Europe. You can enjoy the ultimate tax refund experience provided by TAX FREE EASY in any of the following stores around Neuschwanstein Castle: the tax refund will be transferred onto your Alipay or UnionPay card; the electronic tax refund card will generate a tax form automatically within seconds; the refund will be transferred to your account after 1–2 days.