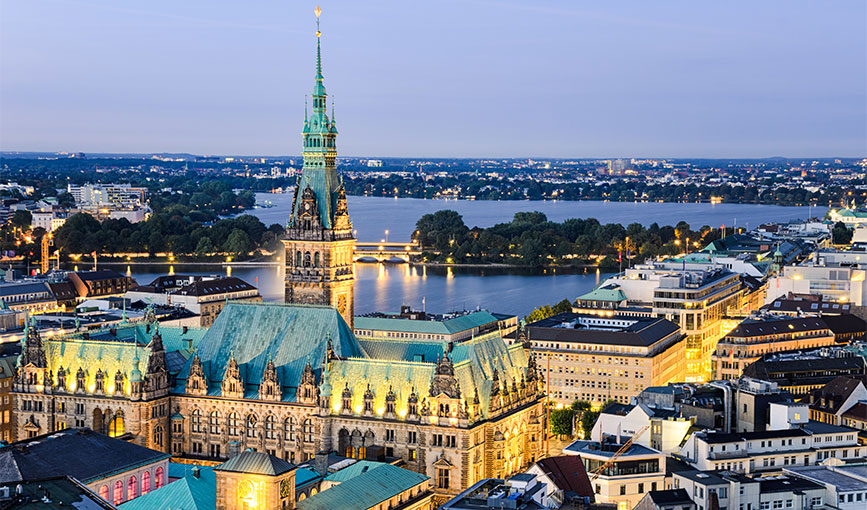 How to get a tax refund in Europe — Hamburg
What makes you want to go shopping in Hamburg?
Hamburg, known as "Germany's gate of to the world," is one of the world's largest port cities. Located in the northern part of Germany, Hamburg is divided by the rivers Elbe, Alster and Bille and many canals which are running through the city. Therefore, Hamburg is also called "the city lost on the water surface with thousands of bridges." Everyone that visits Hamburg will be deeply impressed by its marine character, and the enthusiasm, hospitality and freedom with which the locals welcome visitors from all over the world.
Hamburg is not only a transportation hub and a tourist destination in Germany favored by people from all over the world, but also a renowned shopping paradise.
Which places are worth visiting?
Alstersee
Alster Lake is a lake in the city of Hamburg. It is divided into two parts by a bridge and embankment. They are the Great Alster Lake and the Little Alster Lake.The small Alster Lake is surrounded by bustling commercial districts and a variety of antique buildings with German characteristics. Hamburg City Hall is just around the corner, which makes the small Alster Lake a small and refined sight. It is a venue for visitors to Hamburg. If you need to buy German home, kitchen utensils, accessories, watches and baby products, there are also many duty-free shops around, such as Elbe Boutique. In addition, the store Klockmann near the metro station Gänsemarkt also has a lot of high-end brands of luggage and leather products, such as Rimowa, a top European luggage brand.
Where can you get a tax refund?
TAX FREE EASY is currently one of the fastest and most convenient tax refund services with the highest tax refund rates in Europe. You can enjoy the ultimate tax refund experience provided by TAX FREE EASY in any of the following stores in Hamburg: the tax refund will be transferred onto your Alipay or UnionPay card; the electronic tax refund card will generate a tax form automatically within seconds; the refund will be transferred to your account after 1–2 days.