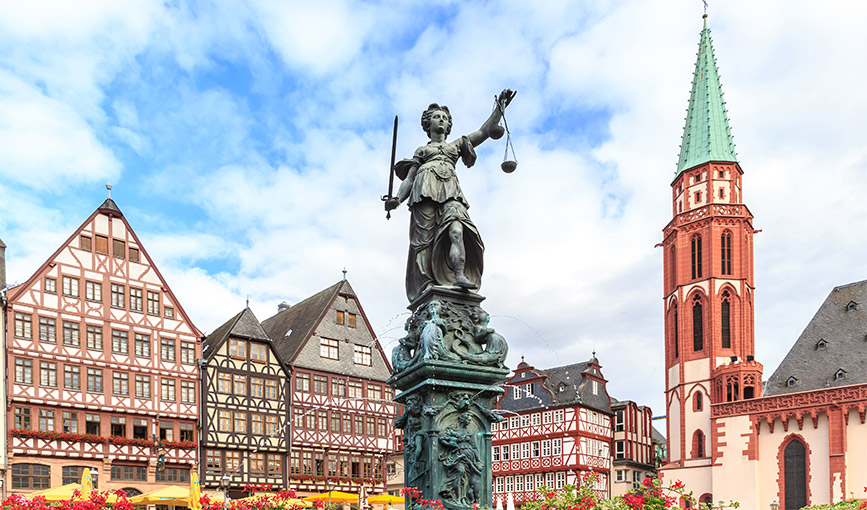 How to get a tax refund in Europe — Frankfurt
What makes you want to go shopping in Frankfurt?
Frankfurt is a dynamic and inclusive city. It is Germany's and even Europe's financial center and a city well-known for fairs and exhibitions. In addition, it is the hometown of Goethe and an important cultural city. The collision between classicism and modernity and the integration of different cultures endow the city with infinite charm.
The economic prosperity and the status as a transportation hub make the city a shopping paradise in Germany. Here you can find not only high quality products made in Germany but also famous brands from all over the world.
Which places are worth visiting?
Shopping in Frankfurt is definitely a great enjoyment. Almost all shops are concentrated in the downtown area within walking distance. Leveled pedestrian streets enable people to stroll leisurely and shop at ease. Frankfurt's shopping area is mainly around Hauptwache. On one side of Hauptwache is Goethestrasse, where specialty stores for world famous luxury brands including watches and jewelry are concentrated; the other side is the famous pedestrian street Zeil, which is only 500 meters long and 34 meters wide but gathers quite a number of shopping malls, brand chain stores and boutiques. While walking here, you can hear different languages and see visitors of different colors – this is the charm of Frankfurt as an international metropolis.Frankfurt's biggest shopping center Karstadt, is located along the street.
Shopping Guide: Whether you are looking for fashion or household products, you can find your favorite shop at Hauptwache.The hundred-year-old bag shop Koffer Klein is located near Goetheplatz. At Koffer Klein you can find Furla, Longchamp, Boss and other high-quality fashion leather goods brands. For those of you who are frequent travellers, the specialized store Koffer Klein Travel & Business will be of interest–they offer products such as Rimowa luggage, Hugo Boss, Victorinox, etc.
Eye Catcher is a 20-year professional eyewear store that not only provides professional personalized service to customers, but also sells various styles of brand sunglasses such as Armani, Dior, YSL, Chanel, Gucci, Cartier, Ray-Ban, etc.
The centrally located store Foto Leistenschneider offers various brands of professional cameras, lenses and supporting equipment, and provides professional consulting and maintenance services.Brands at Leistenschneider include Canon, Nikon cameras and lenses, Zeiss, Leica, Pentax, Sigma and other professional lenses as well as Fuji, GoPro and other brands.
For those who like cooking, do not miss the Le Creuset kitchenware boutique. In addition to the famous Dutch oven, you can find cooking utensils that are suitable for various cooking methods and cuisines. There is also a variety of tableware, wine for you to choose.
Schillerstraße
Located next to the bustling Zeil Street, it is one of the shortest pedestrian streets in the city. With nearly 40 specialty shops, cafes and tours, it is a great place to relax while shopping. The famous Frankfurt Stock Exchange is located here,The traditional and popular kitchenware store LOREY, located opposite the stock exchange, brings together high-quality household items from various brands. LOREY Home Store is a five-storey building with a exhibition hall of nearly 2,000 square meters. It is like a home-made boutique museum, allowing you to experience the feeling of "home" when you are abroad.
Römerplatz
Römer has been the town hall square in Frankfurt since the Middle Ages.It includes an area of about 4,000 square meters and is located in the center of Frankfurt's Old Town. Römer is the most important square in the city.The Justicia monument at the center of the square stands on the top of the city hall.Holding the scales and the sword, it becomes the spiritual symbol of the city.
Shopping Guide: Just facing Piazza Roma, you can find the Apollo Duty Free Shop, one of Germany's most famous duty-free shops chain. A wide range of European famous products, plus a professional and friendly sales team, made the Apollo duty-free shop – established in 2000 – become the preferred shopping destination for Chinese tourists. Apollo offers famous German knives, kitchen utensils, pens and health products. Just a few steps away from the Apollo Duty Free Shop's watch shop, at the watch shop you can find popular German and Swiss watch brands, like Franck Muller Franck Muller, GP Chi Bo, Mont Blanc Montblanc, Rado , Mido, Union Glashütte and Tissot.
Where can you get a tax refund?
TAX FREE EASY is currently one of the fastest and most convenient tax refund services with the highest tax refund rates in Europe. You can enjoy the ultimate tax refund experience provided by TAX FREE EASY in any of the following stores in Frankfurt: the tax refund will be transferred onto your Alipay or UnionPay card; the electronic tax refund card will generate a tax form automatically within seconds; the refund will be transferred to your account after 1–2 days.