2017 The PRESS AND ECONOMIC CONFERENCE "EUROPE AS A SHOPPING DESTINATION FOR CHINESE TRAVELERS" ILLUMINATE THE EUROPEAN TRAVEL-RETAIL-MARKET TOGETHER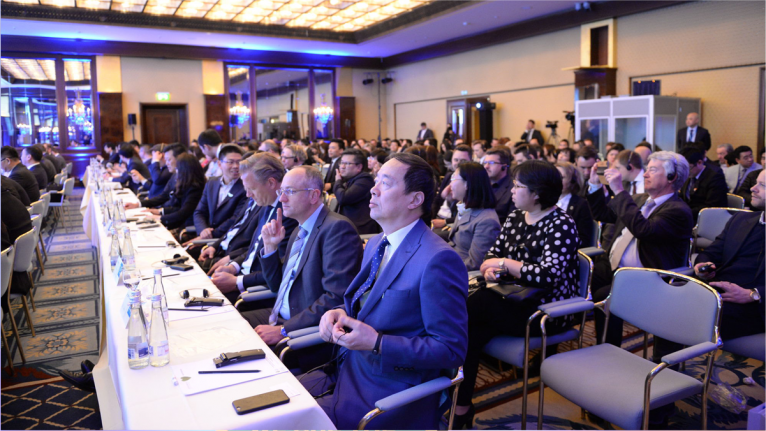 The press and economic conference "Europe as a shopping destination for Chinese travelers" was successfully held convened in Frankfurt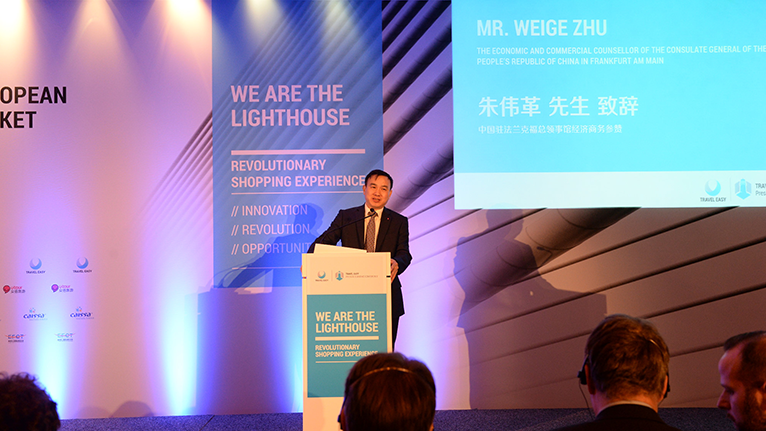 Zhu Weige, the commercial counselor of China's consulate general in Frankfurt, gave a speech at the press and economic conference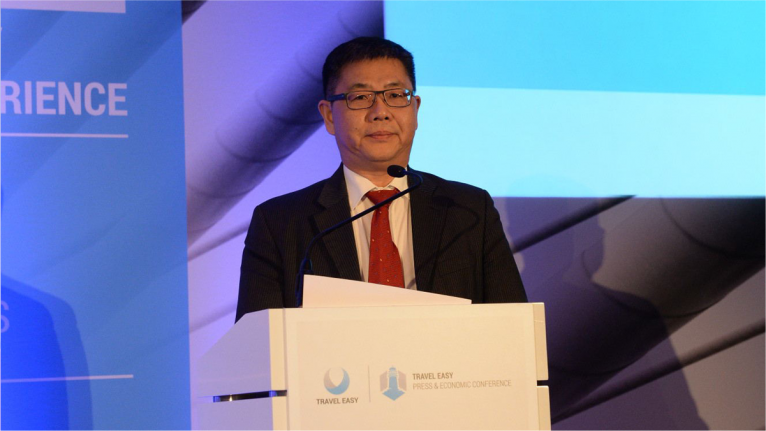 Shi Xiang, the director of the China National Tourism Administration Office in Frankfurt, gave a speech at the press and economic conference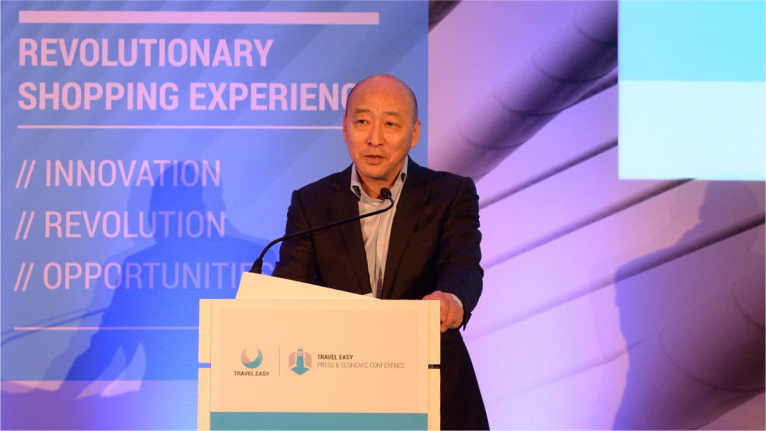 Feng Bin, the president of UTour Group, gave a speech at the press and economic conference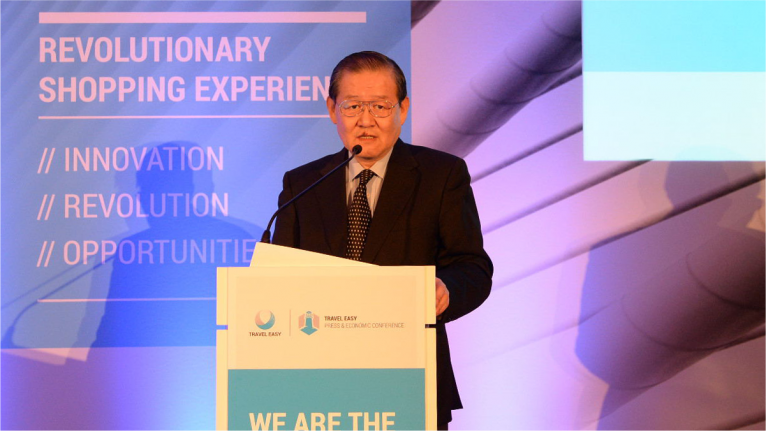 Ren Jun, the president of CAISSA, gave a speech at the press and economic conference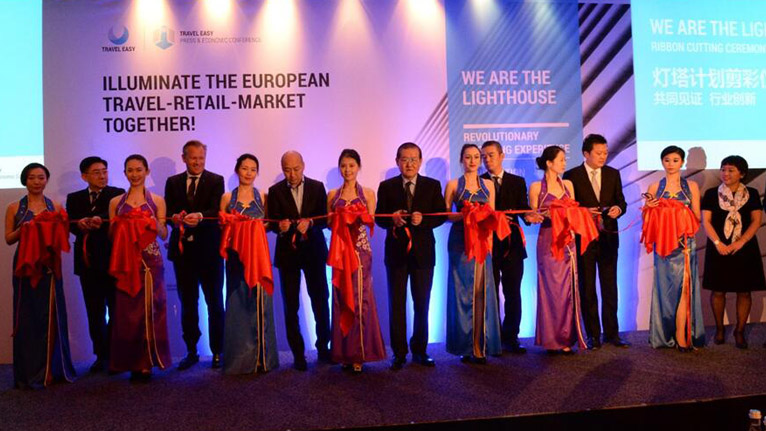 Ribbon-cutting ceremony for the lighthouse plan: to jointly witness the innovation in the industry and to enlighten the European consumer market.
On Mar. 3, 2017, the press and economic conference "Europe as a shopping destination for Chinese travelers" was held by TRAVEL EASY in Frankfurt. Zhu Weige, the commercial counselor of China's consulate general in Frankfurt, Shi Xiang, the director of the China National Tourism Administration Office in Frankfurt, Feng Bin, the president of UTour Group, gave a speech at the press and economic conference, Ren Jun, the president of CAISSA, and some senior executives from the payment service Alipay (Ant Financial Services Group), Apollo Duty Free Shop, German Style Jeweler, Royal Coster Diamonds, A & M Souvenir and the DFS Group, along with 200 guests from political, commercial, cultural and media circles attended the press and economic conference .
A "lighthouse" means "guidance & direction" as well as "risk avoidance"; the press and economic conference has the same purpose. The topics are operating from a strategically advantageous position and being close to the market: how to guarantee financial security for Chinese tourists abroad? How to interpret and face Chinese tourists' changes and their new needs? How to understand and adapt to the new trends of Chinese tourists' consumer behavior? How to make Chinese tourists like the European shopping environment even better?…
Zhu Weige, the commercial counselor of China's consulate general in Frankfurt, talked freely on Chinese-German economic exchanges; Shi Xiang, the director of the China National Tourism Administration Office in Frankfurt, introduced the development trends of Chinese-German tourist exchanges; Guan Kejiang, the director of the Berlin branch of People's Daily expressed the media's hope for innovation of the Chinese tourism industry in Germany; Feng Bin, the President of UTour Group, introduced the general trends of China's outbound tourism; Ren Jun, the Vice President of CAISSA, talked about well-accepted market key words; Alipay's representative in Europe presented a strategic layout on future e-payment in Europe … The whole event was of excellent speeches and ideas.
The organizer of the press and economic conference, Yang Yang, the CEO of TRAVEL EASY introduced a professional analysis of the Chinese outbound tourism market and the consumption characteristics of Chinese tourists, and revealed a trump card for effectively increasing consumption, that is, bringing actual convenience and benefits for consumers. TAX FREE EASY, mainly introduced and promoted by TRAVEL EASY focuses on tax refund and will bring a perfect tax refund experience to Chinese tourists due to the following three advantages:
– Highest tax refund:tax refund for actual duty-free shopping, no further "discounting" of products;
– Best exchange rate:Tax refund amount will be remitted to Alipay account in RMB, which saves up to 5% compared to conventional tax refund in cash.
– Fastest tax refund procedure: Receive tax refund form, get it sealed at customs seal, send the form to our Chinese data center – all done in three easy steps. Upon completion of the review, the tax refund amount will be received within one week.
Mr. Yang Yang said, "Chinese tourists become younger, more rational and digital; there are also more choices when it comes to travel and shopping destinations. European countries should joint together to facilitate true convenience and benefits for Chinese tourists and prove that Europe is the best shopping paradise worldwide."
During the press and economic conference, more topics and concepts emerged, such as, "overseas expansion of the Chinese e-business platform", "E-currency settlement improving Chinese tourists' personal and property safety", "legal avoidance of agency fees and tax refund benefiting Chinese consumers", "improvement of competitiveness and industrial advantages of the Chinese-European industrial chain of commercial tourism", "creating new commercial opportunities for relevant Chinese enterprises and merchants" and "promoting Chinese-German and Chinese-European personnel and tourist exchanges".
As technological innovations and an industry breakthrough were anticipated in the press and economic conference , Chinese media such as Xinhua News Agency, People's Daily, China News Service, China Radio International, Guangming Daily, Wen Hui Bao and Phoenix Satellite Television, as well as local Chinese media, for example European News, Europe Times, Global Times and Hua Shang Daily, along with German media like Frankfurter Allgemeine Zeitung all attended the press and economic conferencefor discussion and field reports.
About TRAVEL EASY
TRAVEL EASY is Germany's first comprehensive service provider for the promotion and support of Chinese travelers abroad. Furthermore, the TAX FREE EASY service allows travelers from China to get a VAT refund. After the introduction in the second half of 2016, this service sparked an enormous shopping boom. The teCRM platform for tourism consumers has created a seamless convergence between Chinese tourism companies and the German economy in recent years and has established an efficient cross-border cooperation. In 2017, TRAVEL EASY will spread its successful solutions and comprehensive professional services across whole Europe.
Declaration:These are original news, which are forbidden to be reprinted without prior authorization. Any approved reprinting should provide the corresponding source.